Now, Warrior!
By
Paula Parisi
June 22, 2011
Calling all cavaliers! The History Channel is looking for equestrian combatants to participate in "Full Metal Jousting," a new reality series that begins shooting in October. Those who have 'the knight stuff' will compete for a $100,000 prize.
"We're taking jousting out of the 13th century and bringing it to modern times," casting director Sémi Aboud said, explaining that the show will combine period authenticity with cutting-edge production techniques. "If you've ever seen 'Top Shot' or 'The Ultimate Fighter,' which are also produced by Pilgrim Films and Television, you know what I'm talking about. We have amazing slow motion camera capabilities that will capture the ripple of armor when the lance strikes."
Aboud is looking foremost for capable riders. "We can teach someone how to joust, but we really don't have the time to teach them how to ride, so we're looking for people who are completely comfortable in the saddle." All disciplines of rider are welcome, from cowboys to show jumpers, polo players to mounted police.
Beyond saddle skills, Aboud is seeking warriors pumped for battle. "We're looking for raw men. The twist with this show is brawn. You don't have to be G.I. Joe, but if you flinch at the idea of full contact sport, this isn't the thing for you." Steel maidens are also encouraged to apply. Casting deadline is July 20. (For an application click here).
Round one will see 50 hopefuls flown to Los Angeles for a meet-and-greet with the producers, judges and host Shane Adams, whose Ontario-based Knights of Valor troupe performs at festivals and TV shows around the world.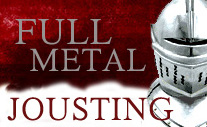 Semi-finals held Aug. 21-26 in Los Angeles will see the group winnowed down to 30 though tests of horsemanship, strength and hand-eye coordination. The 16 finalists chosen to participate in the televised show will be selected between Sept. 17 and Oct. 1. During the taping (on or about Oct. 13-Nov. 14, in a location yet to be announced) the finalists will live in the same house, with one contestant eliminated per episode. The show's airdates have not been set.
The production will cover lodging, travel and some miscellaneous expenses. "We're looking for people who want to take on this challenge, who maybe know what jousting is and think, 'Wow! That looks like fun! I want to try!,' and to give them the chance to win $100,000," Aboud says.
Jousting is a one-on-one duel where two armored riders gallop toward each other on horseback, attempting to unseat one another using a lance. The first recorded tournament was 1066, and it reached the height of popularity from 13-1400. Since the knights were military, jousting is considered a "martial sport" ― a way to keep the knights in fighting form between battles. Much like modern day football, the contestants brandished "team colors" (a coat of arms). While performed mainly for the benefit of the nobility, the matches drew spectators from miles around. The sport began waning around the 1500s, as the Middle Ages segued to the Renaissance.
The pageantry and power of the contests have seen it live on to the modern day, albeit in a generally glossier, more display-oriented incarnation, performed at Renaissance fairs and dinner theater. Aboud says the History Channel feels it's ready for a gladiatorial resurgence.
"There are a lot of people in jousting today who use balsa wood lances, so that when you strike it'll hurt,  but the lance splinters on contact. We'll be using solid wood lances, and we're crafting all our armor from scratch with a level of detail and authenticity that hasn't been seen for quite some time." Ultimately, though, "safety for both the riders and horses will be the utmost priority," Aboud added.
Further to the authenticity, the horses will be selected from among the athletic draft breeds – Percherons, Belgians, Clydesdales, Friesans and Shires. "For anyone who grew up reading stories about knights and medieval battle, this is their dream come true."
For more information about the show, visit http://pilgrimfilms.tv/casting/jousting/
To learn more about the Knights of Valour, see www.knightsofvalour.ca
Short URL: http://theequestriannews.com/?p=2741